E-Learning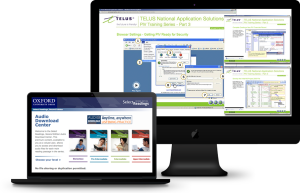 We design e-learning experiences to optimize your team's performance.
In today's knowledge-based economy, companies are facing increased pressure to continually develop the knowledge and skills of employees in order to create a sustainable competitive advantage.
In a labor market where a premium is placed on intellectual capital, organizations are exploiting advances in technology to continually train employees more rapidly, more effectively and at less expense than in the past.
At Converge Creative, we provide a range of e-learning services to enable you to deliver a broad array of online learning solutions to enhance knowledge and increase employee performance.
Instructional
Design
Needs Analysis, Learning Objectives, Course Content Development, Assessment and Activity Design
Rapid Authoring & High Interaction E-Learning
SCORM & AICC Compliant, Animations, Simulations, Quizzes, Games, Flash, Voiceovers, Articulate, Captivate
Learning Management Systems (LMS)
SCORM and AICC Compliant, Commercial, Proprietary, Open Source, Moodle, JoomlaLMS
and more
Translation & Localization
To ensure that e-learning is properly adapted for different languages and cultures

Benny Ramos, TELUS Communications
TELUS has chosen Converge Creative as a preferred custom content online learning provider because they understand what it means to be in a partner. The team is professional, adapts to our learning ecosystem, and takes great lengths to ensure our time, cost, and quality needs are met. With an enterprise as large and as broad as a national telecommunications provider, our preferred suppliers have to be able to agile, and Converge Creative has a long history delivering results for us.
Request My
Free Consultation
Join Our Mailing List
Get free offers and advice and make your marketing work for you!